(June 17, 2019) – HSHV recently received several accolades.
HSHV's strong financial health and commitment to accountability and transparency have earned it an eighth consecutive 4-star rating from Charity Navigator, America's largest independent charity evaluator.  Only 4% of evaluated charities have received at least 8 consecutive 4-star evaluations, indicating that the Humane Society of Huron Valley outperforms most other charities in America.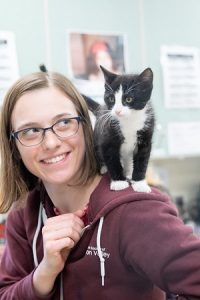 Since 2002, Charity Navigator has awarded only the most fiscally responsible organizations a 4-star rating.  This exceptional designation from Charity Navigator sets Humane Society of Huron Valley apart from its peers and demonstrates to the public its careful stewardship of resources and trustworthiness.
HSHV also won several categories in Current Magazine's annual "Best of Washtenaw Awards".   Readers voted on their favorite local people, places and businesses.  Voting took place in the spring and winners were announced in June.
HSHV won three awards:
Best Local Non-Profit (for third consecutive year)
Best Veterinarian
Best Activist, Tanya Hilgendorf, HSHV President & CEO
And the Tiny Lions lounge and adoption Center cat cafe won an award for 'Best Place to Study."
"We're honored to receive this recognition," says Tanya Hilgendorf, HSHV's CEO. "It's wonderful knowing how much people care about animals and appreciate the work we do here.  We are deeply committed to innovative, high quality services and overall organizational excellence because we are so passionate about our mission.  We know the best way to save, protect and promote respect for animals and to support the human/animal bond is by being the best we can be.  It's what animals and the people who love them deserve.  Of course achieving these accolades is no small feat.  All of our success is due to our generous supporters who afford us the opportunity to do this important work, and our dedicated staff and volunteers who make all the difference."
About The Humane Society of Huron Valley:
The Humane Society of Huron Valley, located in Ann Arbor, is an independent 501(c)(3) non-profit organization and relies solely on the generosity of our supporters to provide critical community programs and services. HSHV is an award-winning organization, recognized for our best practices and highest animal "save-rate" among all similar shelters in Michigan. Charity Navigator, the nation's top charity evaluator, awarded HSHV a 4-star ranking, the highest possible. The mission of HSHV is to promote the loving, responsible care of all animals in our community. HSHV is not affiliated with any other humane organization and does not receive funding from the United Way. More information can be found on HSHV's website (hshv.org) and on our annual report (www.hshv.org/annualreport).
###